Xm42-m Flamethrower-nickel Plated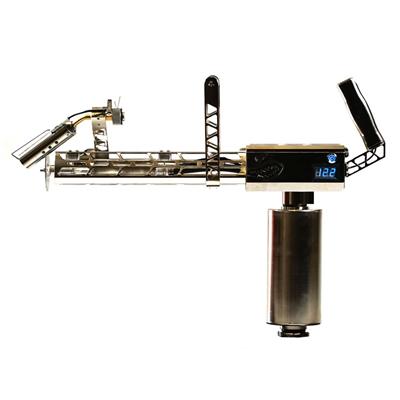 Currently Unavailable
MSRP

$1,24900
XM42-M Flamethrower-Nickel Plated
The XM42-M is the world's first fully handheld, grab and go modular flamethrower.

.Length 26.3 inches
.Width 6.7 inches
.Height 18.4 inches
.Weight 8.0 lbs
.M-Lok Rails on 3 sides
.Removable tank for cleaning
.Built-in Voltage display
.Typical Distance 30ft

By agreeing to purchase and/or receive a model of the XM42-M from Ion Productions Team, LLC, you understand and acknowledge that use of the XM42-M may result in injury or even death. In recognition of the inherent risks of the XM42-M, you confirm that you are physically and mentally capable of handling, operating, and/or using the XM42-M. You further confirm that you will not permit anyone under the age of 18, or anyone over 18 who you do not believe is mentally capable, to handle, use, or operate the XM42-M. You participate willingly and voluntarily and assume full responsibility for personal injury, accidents, or illness, including death. You also assume responsibility for damage to or loss of personal property as the result of an accident.

In consideration of the Activity provided, you, for yourself and your heirs, personal representatives or assigns, do hereby waive, release, discharge, hold harmless, and indemnify Ion Productions Team, LLC, any related entities, and their members, managers, agents, employees, and volunteers (the "Releasees"), from any and all liability, claims, cause(s) of action, present or future, and waive any claims for economic damages, personal injury damages, emotional distress damages and all other damages arising from my handling and/or use of the XM42-M, even if they arise from or are increased as a result of the negligence of the Releasees.

BY ORDERING YOU CONFIRM THAT YOU HAVE HAD SUFFICIENT OPPORTUNITY TO READ THIS ENTIRE AGREEMENT. YOU UNDERSTAND IT AND AGREE TO BE BOUND BY ITS TERMS. YOU UNDERSTAND THAT BY AGREEING TO THIS DOCUMENT, YOU MAY BE WAIVING VALUABLE LEGAL RIGHTS.

Item Info
| | |
| --- | --- |
| Item | Available In Store |
| UPC | 810591030291 |
| Brand | ION PRODUCTION TEAM |
| Model | XM42-M Flamethrower |
| Mfg No | XM42-M-NICKEL |
| Caliber | reg GAS |